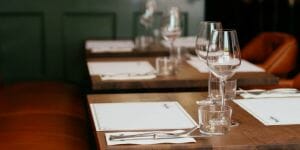 NEW ORLEANS— The Small Business Administration said Wednesday that the Paycheck Protection Program (PPP) has been exhausted. The PPP had given out nearly 10.8 million loans worth more than $780 billion since April of last year.
David St. Etienne, President/CEO of Louisiana Chamber of Commerce Foundation Inc. (LCCF) says the depletion of federal funding will especially impact families supported by minority-businesses. LCCF advocates on behalf of BIPOC-owned businesses in Louisiana. BIPOC is short for Black, Indigenous, and People of Color.
"This will place minorities further behind the economic ball and would have a significant impact on Louisiana's overall economy. We still have businesses who have not been approved for the second round of PPP," says St. Etienne.
"There needs to be more programs to support the training and development of minority business to offset the pandemic's impact. Additionally, more grant opportunities need to funnel into distressed communities, much like our foundation (LCCF) in partnership with SEMPRA Energy," St. Etienne says.
"This Spring, we were able to provide 13 grants- not loans- to Lake Charles businesses. These $1,000 grants allow minority businesses to continue their rebuilding process without the stress of wondering how they will generate enough profit for a loan repayment."
The SBA said in a statement it will still fund applications that have been approved. New applications made through Community Financial Institutions would also be funded.
While the PPP helped save many companies devastated by the pandemic, the Biden administration has estimated that more than 400,000 U.S. businesses have permanently closed due to the virus.
"Going into COVID, we knew that 41% of Black-owned businesses would permanently close. It's approximately the same number here in Louisiana," says St Etienne.
The PPP has been criticized because small minority companies, have low acceptance rates by banks and had to wait weeks or months until community banks, credit unions or other lenders were added to the SBA's roster of financial institutions.
"This is why Community Financial Institutions (CFIs) are integral to minority business communities. These institutions serve underserved communities and tend to take more into account when approving loans than what is on the loan application," says St. Etienne.
More aid is still available to small businesses through SBA Economic Injury Disaster Loans, and restaurants with no more than 20 locations can apply for grants through the Restaurant Revitalization Fund that began accepting applications on Monday.
Help is also available to owners of theaters and other entertainment companies under the Shuttered Venues Operator Grants.
On May 11, LCCF will host a webinar with the U.S. Black Chambers to assist minority-owned food/beverage operators with applications.
For media contact, Brown Public Relations (769) 218-8577